TECHNICAL CHARACTERISTICS OF PLANT IN INDJIJA
Plant area: 4.300m2
Automated production line for aluminum constructions of the renowned German manufacturer Elumatec
Production capacities of 120 units in an eight-hour shift
Processing of aluminum and PVC profiles (as well as wood-aluminum and aluminum-wood profiles, etc.)
The plant in Indjija is intended for the production of top quality aluminum joinery, either windows, doors, facade elements or interiors. The strictest European rules and norms are applied in the production process, starting from the procurement of high quality raw materials to the final quality control of the final product.
Top technology and materials, dedicated and professional people make each of our products high quality, safe and secure.
We are able to meet all the requirements of modern architecture and to make all types of aluminum facades and carpentry in our plant in cooperation with renowned manufacturers of aluminum profiles.
In addition to classic, semi-structural and structural AL wall curtains, we also have experience in the construction of ventilated facades – from composite AL panels (eg etalbond, alukobond.) And panel materials (trespa, fundermax, parklex), to cladding of granite ceramics and ceramic tiles.
In all phases of the project, we insist on precision and accuracy, both in terms of functionality and quality of work performed, and in respecting the required deadlines.
Integrated production management
The factory in Indjija has the most modern technical equipment for processing aluminum profiles. Integrated management of production and total resources is performed by the software package PrefSuite (ERP system). Technical processing of requests and production orders is done with Orgadata LogiKal® software (which provides databases of many well-known profile manufacturers) or Elumatec's EluSoft-eluCad graphics program.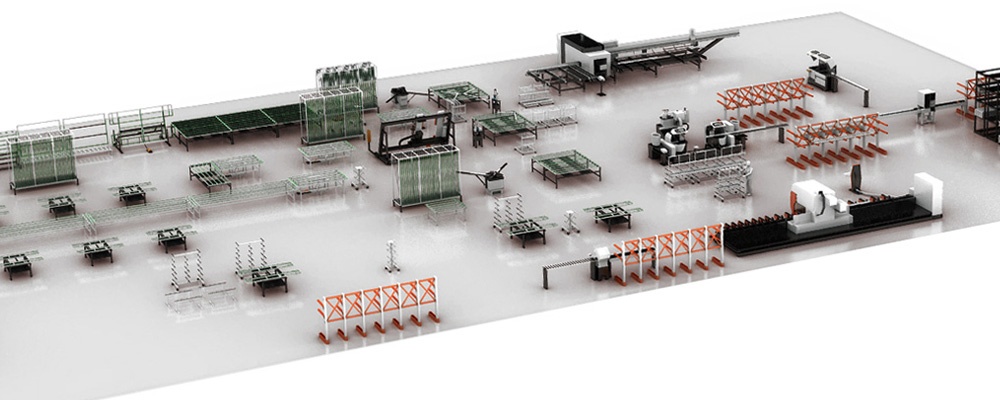 A unique production concept with integrated management, machining centers and state-of-the-art machines (saws, milling machines, pliers, etc.), along with state-of-the-art product quality control systems and automatic packaging, guarantees a safe and secure top quality product.
The release of the production order is realized by a direct connection between the technical preparation and the machine park itself. Through the EluSoft, the machining centers SBZ151 (line for processing special requirements in production) and SBZ630 (line for serial production of doors and windows) can be operated directly.
The production itself is based on the concept of computer integrated production (CIM), ie. the entire production process is performed and controlled via the latest generation of computers. The main goal of CIM technology is to increase the speed and efficiency of production.
The availability of information on the monitors of each workplace, as well as the monitoring of all production segments by PrefCIM software, allow us to optimize production in each segment and thus respond to all set tasks.
ENERGY EFFICIENT ALUMINUM WINDOWS AND DOORS
A wide range of colors in plastic coating and anodizing, in combination with various types of glass, allow us to solve all the aesthetic requirements of modern architecture, as well as to meet the most stringent requirements for energy savings.
Quality and energy efficient carpentry is above all a great investment and long-term solution for every home, so it is our main focus. Today, an energy-efficient window is a synergy of its components – the profile from which it was made and low-emission glass.
We are proud to offer a range of energy-smart options with significantly reduced environmental impact. SAVABIEN's team of experts is always committed to researching and developing rational and efficient solutions to increase the overall energy efficiency of buildings.
The company SAVABIEN was founded in 2006 with its headquarters in Vojvodjanska 394a in Belgrade.
Continuous investments in software solutions and the latest types of production technology, as well as two modern factories with a total area of 10,000 m2 make SAVABIEN one of the leading companies in the region for glass and aluminum processing.